| IR Drive Complete Retail Package | IR Drive Sub-Assembly |

The 5.25" Infrared Drive frame is designed to be easily installed in a spare drive bay.


Also, available in 3.5" form factor.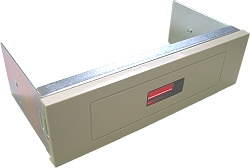 5.25" Frame Only
IRdrive Online Store


1-Year Express Replacement
Advantage Warranty
- Repair or Replace in 3-business Days -


$9.99

Enjoy wireless data transfer up to 6 feets away at speed up to 115.2kbps with a notebook, printer, digital camera, cellular phone, pager, or any other IrDA compliant electronic product* ! If your motherboard supports FIR (Fast Infrared), an optional 4Mb FIR cable can be used in replacement of the standard IR cable and Individually-pinned IR Cable to achieve maximum speed of 4Mbps -- that is 35 times faster than 115.2kbps !


Copyright © 2003-2018 J.D.Research, Inc All rights reserved.