450-Watt Computer Power Supply

Meets ATX 12V V2.0 / Micro PS3 12V V2.0 Standards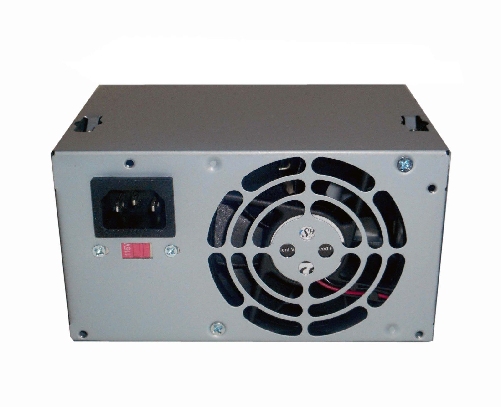 SHARK TECHNOLOGY

®

ATX-450 is a compact 450-Watt ATX power supply

with a smart fan which automatically spin up in speed when internal temperature is elevated. T

o ensure quiet operation, f

an speed is gradually lowered when temperature is lowered.



Smart cable design with SATA and Molex peripheral power connectors strategically spaced out on several cable lines to support various name brand desktop PC system configurations where drives may not be next to each other. Supports standard mini tower as well as mid tower ATX cases.










Connectors Details

(1)

24-pin (20+4pin) Main Connector
(detachable sub-module to become 20pin)







(1)

12V 4pin Power Connector


(2) SATA power connectors
(on 2 separate lines of cables for unrestricted reach)


(4) Molex Peripheral Power Connectors
(on 3 separate lines of cables for unrestricted reach)



(1) Floppy Drive Power Connector


Specifications

Smart Fan

Smart thermostat controlled fan

Fan speed range: approximately 1000 RPM to 1800 RPM

Maximum Power Output: 450W
Efficiency: Typical 70% @ full load
Fan type: variable speed 80mm DC fan

Mesh fan-guard for child safety protection
Input: 100-127V AC or 200-240V AC - select-able by switch
CE & FCC compliance
AC INPUT

115V/230V - 60/50Hz

DC OUTPUT

+3.3V

+5V

+12V

-12V

+5VSB

450W

Peak
Combined
Watts

25A


35A

18A


0.8A

2A

450W
Dimension:

3 3/8" (height) x 5 7/8" (width) x 4 3/16 (depth)"
86(H) x 150(W) x 106 (D) mm

Replacement Power Supply for:


Dell Dimension B110 B1000R 1100 2200 2300 2350 2400 2450 3000 4300 4400 4500 4550 4600 4700 8200 8250 8300 8400 9100
E310, E510, E520, E521 desktop PC
Dell Optiplex Tower GX50 GX60 GX150 160L 170L GX240 GX260 GX270 GX280 320 330 740 745 755 desktop tower PC
Dell PowerEdge 400SC 600SC
Dell Precision Workstation 210 220 340 350 360 400
Dell SmartStep 100D 150D
eMachine ET1831, ET1161-07
Gateway DX4300, DX4320
HP Pavilion a520n, a350e CTO, a1709n, a605x, a420n, a6112n, P6000, p6110y, p6210y



Compatible with:


Dell P/N: PS-6311-5DF, NH493, L305P-01, 2N333 (4G456), K2946, PS-5201-8D2, N305P-05, N350N-00, HP-P1457F3, HP-P2507F3B, HP-P2507F3C, HP-P2507F3CP, HP-P2507F3P, HP-D2537F3R, F4284, X2634, C3760, Y2682, C4849, G4265, ps-6311-1ds, DPS-200PB-146 B, U4714, NPS-305BB C, NPS-305KB A, NPS-305HB A, N305P-01, K2946, 2Y054, XK215, NK595, C248C, 5150, W8185, and many others.

HP P/N: 5183-6914, 5187-1098, 5187-5008, 5188-2622, 0950-2700, 0950-3971, 0950-3971, 0950-3975, 5188-2859, 5187-6114, 5188-2625, A6130N, 585008-001,

Bestec ATX-250-12Z ATX-250-12E ATX-300-12Z BD, ATX-300-12Z Rev. DDR, ATX0300D5WC Rev:B
Delta DPS-250AB-22E, DPS-300AB-19 A, DPS-350AB-8, GPS-300AB-200D, GPS-450AA-100 A
FSP ATX-250pa (1), FSP300-60THA
Hipro HP-P1457F3 HP-P2507F3C HP-P2507F3CP HP-P2507F3B HP-P2507FW HP-D2537F3R HP-D3057F3R HP-D3537F3R
LiteOn PS-5251-08