Model:

ATX-1000-N12S APFC



New summer 2021 update with larger 140mm fan

Active PFC Technology

Full AC Range Auto-Switch

Now Higher Energy Efficiency

Cooler Operation







High Efficiency Low Heat Low Noise

This unit can operate anywhere in the world automatically with any AC input voltage from 100V to 240V. The sophisticated high efficiency design allows the unit to operate with less heat and lower cooling fan noise than most PC power supply models in the market.


ATX 12V V2.2 EPS 12V V2.92












Strong 1000-Watt On-Demand Output for PC and server applications
Legacy and newest AMD and Intel i7 multi-core CPU supported
UL certified safety power cord included
Consumes less than 0.5W in standby no load state - EuP Lot 6 2013 compliant
Energy-efficient with less heat and wastes less electricity
Active PFC technology with full range auto AC input selection
Made with lead-free and hazardous-free components -
RoHS Compliant
Long cables to support standard mid tower PC and gaming cases

Black casing with black round circular fan guard and black mash cable sleeves on all cables






EuP Lot 6 2013 compliant

This unit is designed to consumes less than 0.5 watt in standby no load state. You no longer suffer noticeable power loss even after PC system is powered off.



Compact right angle (90-degree) serial ATA power connectors spread out in multiple lines of cables to reach various drive positions in tight corner










RoHS Compliant - made with hazardous-free components

RoHS is the Restriction Of the use of certain Hazardous Substances in electrical and electronic equipment. This has been a standard in Europe and is now becoming a standard in the world. Not only lead, but cadium, mercury, hexavalent chromium, polybrominated biphenyl (PBB), and polybrominated diphenyl ether (PBDE) flame retardants are limited as well.

Lead-FREE Cadium-FREE Mercury-FREE Hexavalent Chromium-FREE

PBB-FREE PBDE Flame Retardants-FREE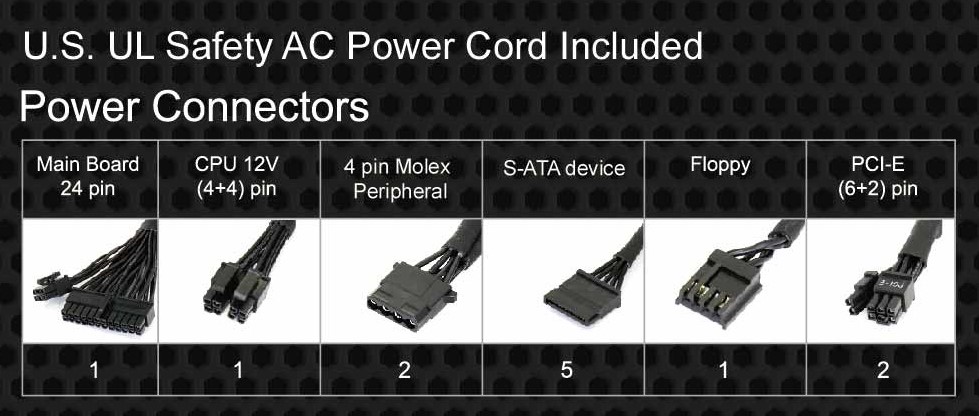 Connector & Cable Details

1 x 20+4pin Main Power Connector (supports 20 or 24pin motherboards) -20"
1 x 4+4 12V Power Connector (supports standard 2x2 P4 or 2x4 8pin 12V boards)
21"

2 x 6+2 PCI-E Power Connector, supports 6pin or 8pin PCIe video cards

(on two separate line of cables for unrestricted reach)
- 21.5"
5 x Compact 90-degree SATA Power Connector (on two separate line of cables) -
longest SATA 27.5"
2 x Peripheral Power Connector (on 2 separate line of cables) -
longest Molex 27.5"
1 x Floppy Drive Power Connector







Now even larger 140mm fan draws heat from CPU area and cools the power supply at the same time.

Special slippery circular tube design

f

an-guard

allows air to flow in smoothly and quietly while providing protection against unintended installation injury.

This is the optional AFPC auto-switch version that does not come with an AC Voltage Selection Switch as it can now self-select automatically.



Smart Fan Control





Large 140mm fan can draw massive amounts of hot air in from the CPU into the power supply, even at low speed with very low noise, and exits out the back of the PC. Fan speed is regulated in reference to its internal temperature sensor attached to an internal heat-sink fin. Quiet

low-friction fan spins leisurely at 800 RPM, reducing power consumption and greatly reducing fan noise. On board smart controller may gradually increase the fan speed in response to rise in temperature.



AC INPUT

100V-240V (Auto-Select), 47-63Hz, 5A


DC OUTPUT

+3.3V
+5V
+12V1

+12V2
-12V
+5VSB

1000W

Max
Combined
Peak Watts

33A
45A
34A

34A
0.8A
3A

1000W
| | |
| --- | --- |
| | Manual shut-down rocker switch |
| | Maximum Power Output: 1000W |
| | Efficiency: Typical 78% |
| | Input: 100--240V AC - automatic selection. No need to flip the AC input switch manually. |
| | Dimension: 150mm x 86mm x 165mm (the 165mm length is the side that extends inside the case when installed) |
Complete 4*Startm system protection

Over Voltage Protection
Under Voltage Protection

Short Circuit Protection
Over Power Protection

Factory Outlet Store


1-Year Express Replacement
Advantage Warranty
- Repair or Replace in 3-business Days -





USD$ 89.99


UL certified AC power cord, manual,and
installation screws included




UPC:
897101000219
---
Even more energy efficient with LED fan version
available

---