Features

Flicker Free Display
No Radiation
Space Saving
Energy Saving
No Electrostatic Charge
Superb Display qualities
Reliable
User Friendly plug and Play
Built-in Speakers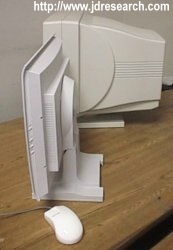 The i850 LCD is the answer to the demands of a technologically superior display, in a more compact size with greater efficiency and versatility.

i850 LCDs can be used in a variety of different environments such as professional work offices, homes or sensitive areas that require low heat
and radiation emission.

i850 is the answer to tomorrow's need for an Innovative,Plug and Play Display solution. And you don't have to dump your current video card to work with it !